FormLAB Sao Paulo, Brazil Still from performance, Brazilian Museum of Sculpture, 2012 © FormLAB, ARS New York
About FormLAB 1997-present
I conceived FormLAB (FormLaboratory) at Goldsmiths, London in 1996 as an arts research project. Drilling down into the processes and procedures of artmaking I discovered it is that these procedures construct an ontology of the artwork that evolves from idea to raw material, to fabrication, to artifact. Using Robert Smithson;'s not in of geological time all artworks, monuments, environments are changing and in essence ephemeral with their own lifecycle from conception, creation and eventually disappearance. I wanted to observe the phenomenon of art - not merely what is an artwork? but also when is an artwork?
Robert Smithson in "Entropy and the New Monuments," (Artforum, June 1966) wrote of a "hideout for time". Through artworks we can manifest spaces that capture, shelter and preserve time. Through FormLAB I create living dioramas that capture moments of creation, uncertainty, discovery and the unexpected. (1) As a system that re-envisions itself in different locations each time FormLAB progresses towards the uncertain - in places not yet illuminated by history or expectation. Artists and spectators experience art as a series of timelines that recursively unfold within the exhibition space. It uses found objects, images, gestures which are collected, activated within the LAB space, and reassembled into mutated artifacts.
FormLAB has exhibited at the Bauhaus, Germany (2009), Treignac Projet, France (2010); the Brazilian Museum of Sculpture (2012), Seoul Foundation for Art and Culture (2012); Fenberger House, Japan (2012) as a Fulbright-Hays awarded project at Zanabazar Museum of Art, Mongolia (2014) and the Inside Out Art Museum Beijing (2017). It now prepares research as a CEC ArtsLink-St Petersburg, Russia (2017).
Creating sculptures on site with found objects: FormLAB installed at Brazilian Museum of Sculpture, 2012. 2012 © FormLAB, ARS New York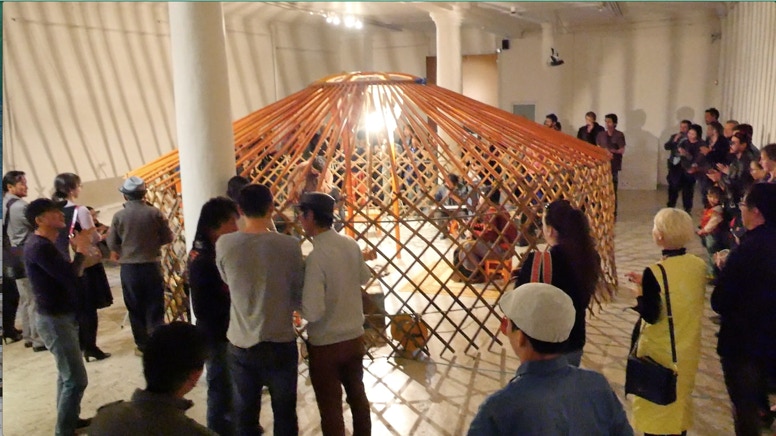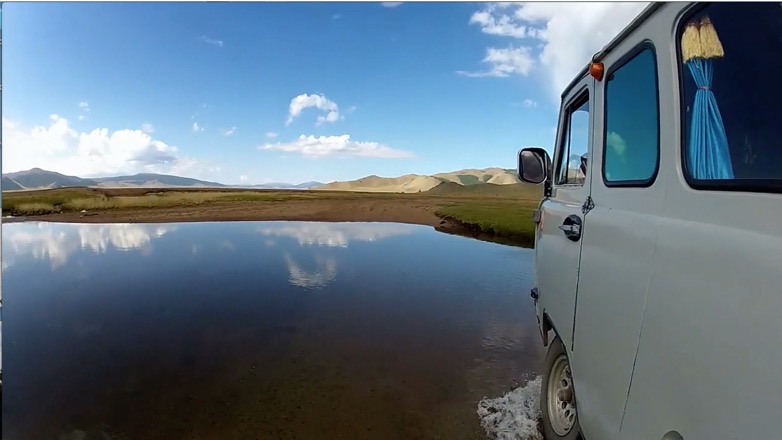 FormLAB-Mongolia (2014) Zanabazar Museum of Fine Art, Ulaanbaatar, Mongolia
In Mongolia I worked with Mongolian artists, traditional and contemporary electronic musicians and dancers creating a dialogue between different music forms, dance and sculpture installation in a traditional nomadic ger (above).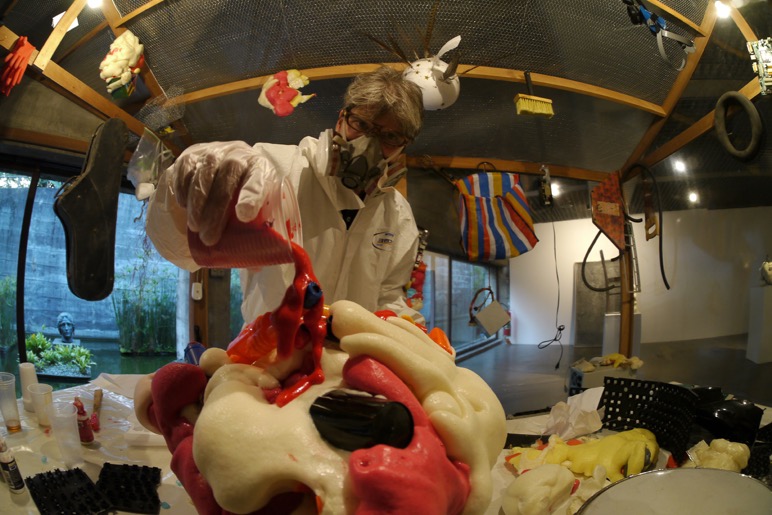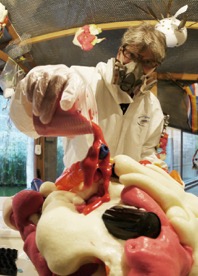 Appropriating notions of archeological excavation, observation and collecting, FormLAB mines found-objects from localized communities and activates them within an art space. It creates production systems: transforming materials on site into artworks; and archive systems for display within museums and galleries. (Image left, assembling sculptures in FormLAB at the Brazilian Museum of Sculpture, Sao Paulo, 2012).
In addition to building on the concepts of time evoked by Robert Smithson, FormLAB is inspired by Cabaret Voltaire (1916) (Kandinsky, Klee, Tzara, Taeuber-Arp, de Chirico, and Ernst), the Cadavre Exquis experiments of Andre Breton (1918), the Triadic Ballet of Oskar Schlemmer (1922) and the Cut-Ups of William Burroughs (1970). This results in an installation that combines performances, videos and contemporary cabinets of curiosity.
FormLAB Brazil 2012, Brazilian Museum of Sculpture, São Paulo
For FormLAB, Sao Paulo, I explored local ritual and sculpture-making with the leader of a Brazilian shamanic group where we fused art-making, performance and ritual to create sculptures. These assemblages were composed from objects that were considered to possess magic.
the
Throughout the expedition in Russian jeeps (above) then on horseback FormLAB created Buryiat (2014), a video of the pastoral lands as seen by the matriarch, the head of a nomadic herder family (see video still below).

Through central Mongolia and the borderlands with Siberia, FormLAB visited remnants of a nomadic Tsaatan reindeer herding community which inspired the performance and video Shapeshifter (2014) where I morph into a reindeer.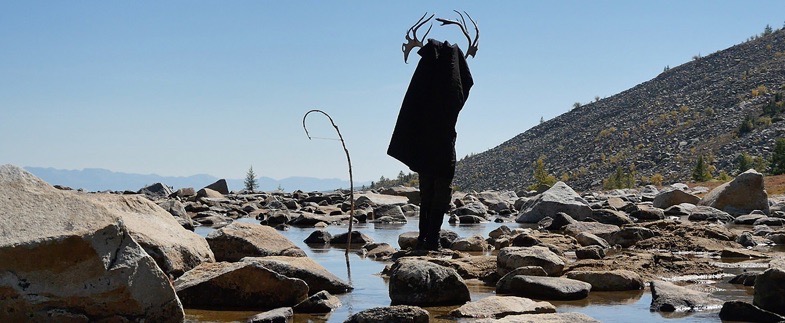 FormLAB-Seoul (2012) Seoul Art Space, Seoul Foundation for Art and Culture, Korea
In Korea FormLAB worked with local artists to create assemblage sculptures from thousands of plastic toys collected in the neighborhood of Geumcheon in Seoul - recombining these into installations and assemblages. (image below, Sculpture-forming at FormLAB, Seoul Foundation for Art & Culture, Korea, 2012).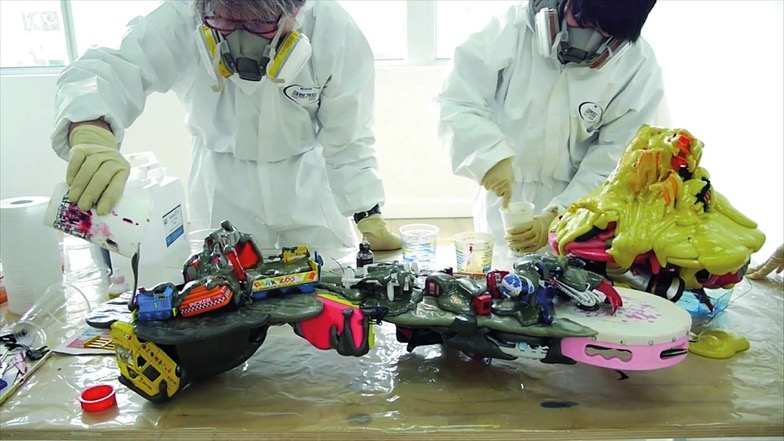 Bauhaus Stiftung, Dessau Germany (2008-2012)
As 2008/2009 Artist Fellow with the Bauhaus, Dessau (Germany) I researched Oskar Schlemmer's Triadisches Ballett (1922) and created a series of site-specific performances in the Hansaviertel Berlin and in Queenstown, Singapore (above). Working with contemporary and traditional dancers from National University of Singapore and La Salle College of Art I worked with a team of 20 Singaporean dancers and choreographed a series of light sculptures (above).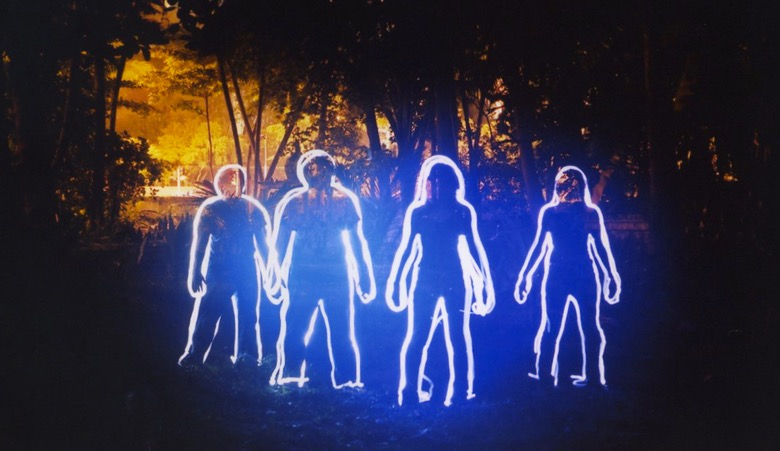 Summary
FormLAB activates the way museum audiences experience art as object and as process. It shifts the way audiences see work from static to a "live" art-making process. The evolving and radical nature of the collaborative process leads to new and unexpected discoveries not only in art but also in culture.
An interview on FormLAB is published in Octopus, the Journal of Visual Studies at University of California, Riverside.
Notes
_________________________
(1) In the early 2000s curators began to express an interest in the notion of the laboratory as 'still untouched by science' from "Laboratories is the answer, what is the question?" TRANS 8 (2000) from Bishop, Clare, (2004) Antagonism and Relational Aesthetics: October (Fall 2004): pp. 51-79.
As Maurice Blanchot wrote "Interruptions having somehow the same meaning as that which does not cease. Both are affects of passivity. Where power does not reign – nor initiative, nor the cutting edge of a decision – there, dying is living. There dying is the passivity of life – of life escapes freed from itself and confounded with the disaster of a time without present which we endure without waiting, by awaiting a misfortune which is not still to come, but which has always already come upon us and which cannot be present." Blanchot, Maurice, The Writing of the Disaster, University of Nebraska Press, Lincoln, 1986, p 21
The informe (or formless) is defined by Georges Bataille in Documents (1929) as "…not only an adjective having a given meaning, but a term that serves to bring things down in the world, generally requiring that each thing have its form. What it designates has no rights in any sense and gets itself squashed everywhere." In Bataille, G (1929), Documents 1, Paris, p. 382 (translated by Allan Stoekl et al, Georges Bataille. Vision of Excess. Selected Writings, 1927-1939, Minneapolis: University of Minnesota Press "Formless", p. 31).
1996-2018 © FormLAB, Les Joynes Joynes LLC, ARS, New York. All Rights Reserved.