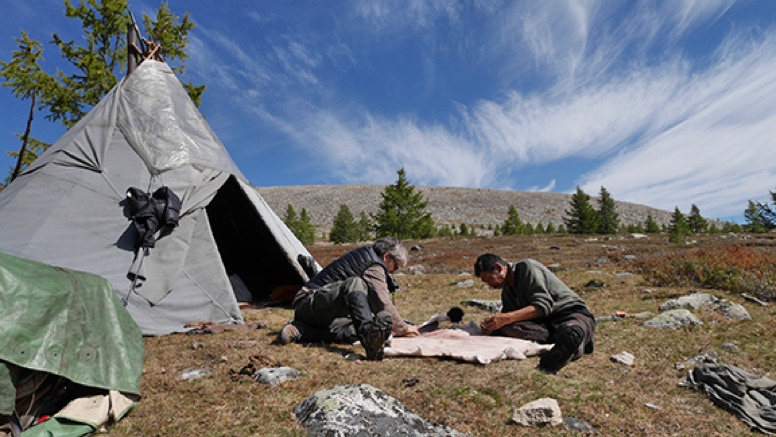 Still from video, Buryiat (2014) filmed at Mongolian Border with Siberia. 2014 © FormLAB, ARS, New York
The Artist as Explorer: Directing research projects in Asia, Central Asia and South America, Les is a Fellow of the Royal Geographical Society (RGS) of Great Britain; and Fellow of the Explorers Club, New York. He was US Department of State sponsored Field Research Fellow at the American Center for Mongolian Studies (ACMS) Ulaanbaatar; Fellow at the Research Centre for Transnational Art, Identity and Nation (TrAIN) at The University of the Arts London and US Department of State Zero1 Arts Incubator Artist. He has presented on intercultural arts collaboration at the Cambridge University Centre for Research in the Arts, Social Sciences and Humanities and completed his Post-Doctorate on ritual and contemporary art at Escola de Comunicações e Artes (ECA), Universidade de São Paulo, Brazil.
In Mongolia he led an expedition to a Tsaatan nomadic reindeer herding community at the Mongolian Border Region with Siberia, featured in Going Beyond: Artist as Adventurer, Cambridge Scholars, UK (2018)
R E S E A R C H & E X P L O R A T I O N
Arctic Circle: First Nation Americans: Artifact, Ritual and Conception of the Contemporary (2021)
US Department of State Zero1 Artist Incubator (2019)
New Russia: Exploring St Petersburg through image, sound and memory. CEC-ArtsLink (2017)
China: Urban Ritual, Artmaking and Exploration in the Modern Metropolis (Fulbright-Hays Awardee, Inside Out Art Museum, Beijing, 2017)
Mongolia: Contemporary and Nomadic - Khoomei throat singing and contemporary music (Zanabazar Museum of Fine Art, 2014)
Mongolia: Performance and Nomadic Tsaatan Reindeer Herders near Siberia: Exploring music, ritual and landscape (2014).
Habitat (Mongolia): Nomadic Families in Khovsgol Province (video, 2014)
Sao Paulo, Brazil: Ritual and The Performer as Observer of the City (Fundação Armando Alvares Penteado, 2013)
Sao Paulo, Brazil: Exploration of its Topographies through Performance (Hemispheric Institute, 2013)
Sao Paulo, Brazil: Exploring Neighborhoods and their Found Objects (Brazilian Museum of Sculpture, funding from Brazilian Ministry of Culture, 2012)
Seoul: Exploring Neighborhoods and their Found Objects (Seoul Foundation for Art and Culture, Korea, 2012)
Germany: exploring Perforated City/ Disappearing City - An exploration of cities in Sachsen Anhalt, Germany, funding from Bauhaus Foundation Dessau, 2008)
Norway: Shapeshifters and Time Travelers: Sunnfjord and its Legends of Nordic Mysticism (funding from Nordisckkunstnarsenter Dalsasen, NKD, Norway 2008).