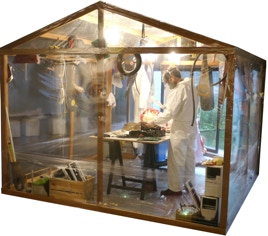 Les Joynes (US)
American, born Southern California.
Lives and works in New York.
​
Les Joynes, FRGS is a contemporary artist and founder of FormLAB, a museum exhibition series exploring artist-centric installations. He is a scholar on contemporary art, education and visual culture at Columbia University, New York; visiting faculty in the School of Art, Renmin University, Beijing; and lectures on entrepreneurial arts leadership at the Institute of Creative Industries at Peking University, Beijing.
​
(image: Joynes in sculpture performance at the Brazilian Museum of Sculpture).
He is US Department of State Zero1: Art and Technology Artist and Art and Technology Panel chair for the ProjectAnywhere Conference, Parsons School of Art & Design, New York (2018). He has exhibited at the Brazilian Museum of Sculpture, Sao Paulo; Inside Out Art Museum, Beijing; Norimatsu Museum, Japan; the Barbican, London; Inside Out Art Museum, Beijing; and the Art Gallery of New South Wales, Australia.
​
He was a curatorial assistant for the Inaugural Taipei Biennial "Site of Desire" exhibition in 1998 and has curated contemporary exhibitions in Tokyo and the UK. He has presented on contemporary art at Cambridge University, University of California, the Bauhaus Foundation Dessau, Germany Pro-Arte, St. Petersburg, Russia and Lasalle College of the Arts, Singapore. He is recipient of the US Fulbright-Hays Award for Mongolia and US Public Diplomacy Mission China Award; Edwin Austin Abbey Fellowship for Public Art; the Japan Ministry of Culture Scholarship; and Taiwan Ministry of Education Scholarship. Publications Include: Going Beyond, Art as Adventure (Cambridge Scholars, UK); Mapping Madness: Inside Out Art Museum, Beijing (Neiman Foundation, New York); ProjectAnywhere V2 (Parsons, New York); Museum 2050 (Long Museum, Shanghai); Art in America; Springer (Vienna) and his work has featured in Art Monthly (UK), Playgraph (Japan), Commons and Sense (Japan), Sculpture Magazine (US), NHK Television (Japan). He serves on the editorial board and artist-selection for ProjectAnywhere, Australia.
​
He has a MA Fine Art from Goldsmiths, University of London; Masters in Fine Art from Musashino Art University, Tokyo; BA Hons Fine Art from Central Saint Martins College of Art, London; PhD from Leeds Metropolitan University, UK; and Post-Doctorate from Escola de Comunicações e Artes, Universidade de São Paulo, Brazil. He received his graduate training in Management from Boston University and Vrije Universiteit Brussels Faculty of Economic and Social Sciences and California State University. He currently researches global visual cultures at Columbia University. He lives and works in New York.